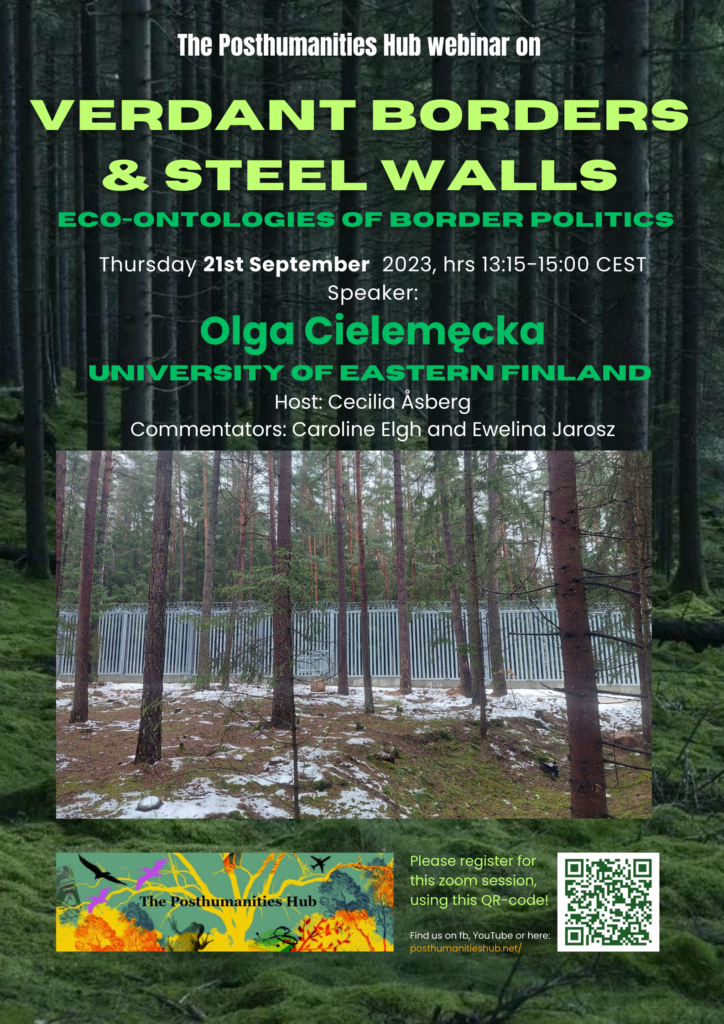 Verdant borders and steel walls. Eco-ontologies of border politics.
Posthumanities Hub Webinar 21st September 13.15-15.00
Link for registration https://liu-se.zoom.us/meeting/register/u5wtdO-tqToiGN2QYWwKnGfs4dtgw30Y_OuL#/registration
Approximately seventy-four border walls and fences exist across the world today, up from just six in 1989. Despite the border-defying and planetary character of contemporary problems – environmental crisis, political instability, pandemics – border barriers are proliferating. New border fences have recently been erected on the eastern frontiers of the European Union, and, as they cut through the borderland woods, they turn a forest into a wall. Yet, the supposedly impermeable contemporary border regimes are incessantly interrupted and undermined by uncontainable human mobility as well as the vibrant mobilities and tresspasses of the forest matter.
Olga Cielemecka is a feminist philosopher and postdoctoral researcher in Borders, Mobilities and Cultural Encounters at the Department of Social Sciences, University of Eastern Finland. She works in feminist theory, field philosophy, and environmental humanities. She previously held a postdoctoral position at Tema Genus at Linkoping University. Her current research focuses on the environmental and societal impact of border security infrastructure in nature-protected areas.