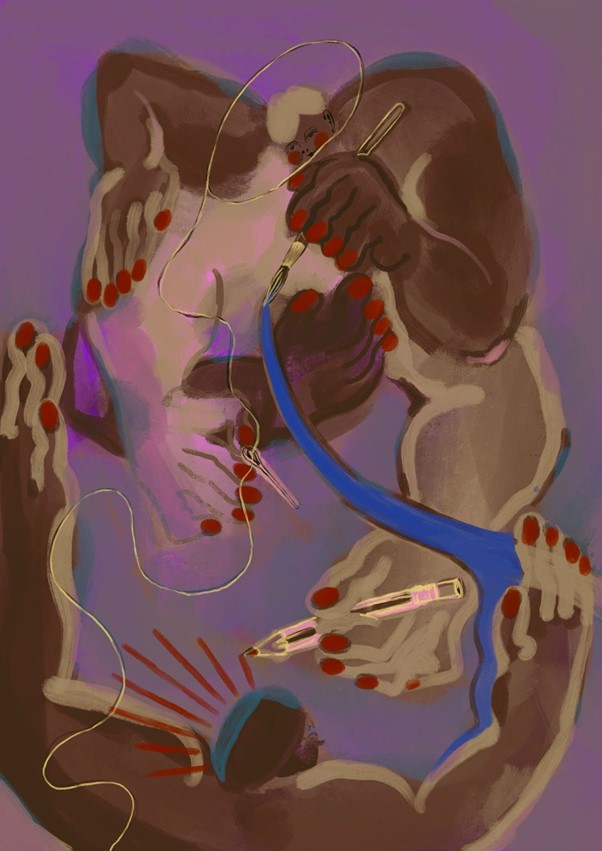 Finally, it is here! We are very proud to announce the up-coming 12th New Materialisms conference, in Ireland at Maynooth University!
Call for Papers:
Intersectional Materialisms:
Diversity in Creative Industries, Methods and Practices
Location: Maynooth, National University of Ireland
We are delighted to announce the forthcoming 12th New Materialisms Conference on "Intersectional Materialisms: Diversity in Creative Industries, Methods and Practices," an interdisciplinary platform to explore the convergences and synergies between intersectionality, new materialisms and creative practice. This conference aims to bring together scholars, activists, and practitioners to critically engage with the complexities of subjectivities, power, and material realities through an intersectional and materialist lens with a focus on how the materiality of difference matters in creative practice.
About the Conference:
The conference seeks to foster an inclusive and dynamic space for discussions that transcend conventional disciplinary boundaries with a view to open, yet historically informed, conversations. Intersectionality and Feminist New Materialisms intersect to enrich our understanding of the interconnectedness of human and non-human life, challenging binary conceptualisations, and addressing social, technological, environmental, and political issues with renewed perspectives. The conference is the next in an annual tradition that started in 2010 and was briefly interrupted during the global COVID-19 pandemic. So far, the network has met in Cambridge, UK; Utrecht, NL; Linköping, SE; Turku, FI; Barcelona, ES; Maribor, SI; Melbourne, AU; Warsaw, PL; Paris, FR; Cape Town, ZA; Kassel, GE.
Themes
We invite researchers, artists, professionals, teachers and activists to submit original papers and presentations that engage with the theme of intersectionality within the creative industries, or through creative research methods and practices. We are interested in oral histories, folk practices, digital folk media, inclusive dance, disability powered art, feminist cinema and music, drag, queer and trans creative spaces, productive connections and points of tension; synergy and debate. We follow a range of interdisciplinary conversations, and specifically invite papers that look to decenter colonial histories, knowledges and value systems, which also develop an awareness of the global and racialized politics of emotion. In recent years, the creative industries have witnessed a growing awareness of the complex interplay between various forms of identity and their impact on creativity, representation, and cultural production. Intersectionality, a framework that acknowledges the interconnectedness of multiple social identities and systems of oppression, has become a crucial lens through which to understand and critique the dynamics within the creative sectors. This interdisciplinary conference seeks to foster a deeper exploration of intersectionality's role in shaping the creative industries, facilitating an inclusive and critical dialogue among scholars, practitioners, and stakeholders.
Intersectionality (Nash, 2018; Banet-Weiser, 2018; Villesche et al., 2018; Hill Collins, 2019; Kanai, 2020) has brought race, class, age, sexuality and disability into everyday feminist discussions which challenge the whiteness of western feminist material culture (Hamad and Taylor, 2015). However, there are also scholars (Puar, 2011; Hinton, et al., 2015) who note some of the ongoing whiteness embedded within new materialism and suggest that 'race and the very processes through which racialized bodies come to matter (in both senses of the word) are considered to be areas that are underrepresented in many new materialist approaches' (Hinton, et al., 2015, p. 2). Taking this as a call to action, we also invite papers which investigate and respond to what Geerts and van der Tuin (2013) might call 'a pattern of interference', after Barad (2007) and Verloo (2009), where 'by allowing for relations to be made and made differently, we no longer assume that a social category or a set of social categories has a decisive and uniform effect (essentialism)' (p.176). Papers, panels, performances and other submissions which take up intersectionality as a critical and creative feminist new materialist turning point, or everyday practice are especially welcomed. Submissions may address, but are not limited to, the following themes:
Topics
We invite contributions that explore, but are not limited to, the following themes:
1. **Representation and Identity in Creative Content:** Analysing how intersectionality influences the representation of diverse identities in art, media, literature, film, and other creative forms.
2. **Production and Creative Processes:** Examining how intersecting identities impact creative processes, collaboration, innovation, and decision-making within various creative domains.
3. **Cultural Production and Social Change:** Exploring how intersectional perspectives contribute to challenging stereotypes, promoting social justice, and fostering inclusive cultural production.
4. **Economic and Structural Inequities:** Investigating how intersectional factors affect access to resources, opportunities, and career advancement within the creative industries.
5. **Audience Reception and Consumption:** Studying how audiences from different intersecting backgrounds engage with and interpret creative content, and how intersectional narratives resonate with diverse audiences.
6. **Intersectional Activism and Advocacy:** Examining the role of intersectional approaches in advocating for diversity, equity, and inclusion within creative sectors and their broader societal impact.
7. **Arts Based Methods:** Exploring how arts based methods create spaces for intersectional activism in research.
8. **Posthumanist queer studies and intersectional approaches to sexuality: research in and outside institutions**
9. **Intersectional perspectives on technoscience, AI, and digital cultures: can AI be creative?**
10. **Creative production and minoritarian cultures**.
KEYNOTE SPEAKERS:
Jasbir Puar, University of British Columbia, Vancouver
Chiara Bonfiglioli, Ca' Foscari University of Venice, Italy
Milla Tiainen & Katve-Kaisa Kontturi, University of Turku, Finland
Susan Luckman, University of South Australia, Australia
Aislinn O'Donnell, Maynooth University, Ireland
**Submission Guidelines:**
We welcome proposals for presentations and panels and encourage diverse modes of engagement including performance and other creative approaches.
For individual presentations, please submit an abstract of no more than 300 words, along with a brief bio and contact details, to intersectionalhumanities@gmail.com by December 15, 2023. For panel proposals please include abstracts for each paper and the panel's overall theme. Our preferred format is in-person but we will accommodate virtual presentations as needed. Please include your proposal with information about preferred format and other technical/practical requirements.
**Important Dates:**
– Abstract submission deadline: December 15, 2023
– Notification of acceptance: February 15, 2023
– Conference dates: August 26th to 29th, 2024
**Conference Format:**
Considering global circumstances, the conference will be organised as a hybrid event, offering both in-person and virtual participation options to accommodate diverse attendees.
**Publication Opportunity:**
Selected papers presented at the conference will be considered for publication in a special issue of Matter: Journal of the New Materialisms or an edited volume dedicated to the encounters between intersectionality and feminist new materialisms.
**Registration:**
Further details regarding registration and the conference schedule will be available on the conference website as the event date approaches. For inquiries and further information, please contact Professor Anna Hickey-Moody, anna.hickeymoody@mu.ie
*Organisers *
Professor Anna Hickey-Moody, Maynooth, IRE
Dr Suvi Pihkala, University of Oulu, FIN
Dr Marissa Willcox, University of Amsterdam, NL
Dr Tapasya Narag, University College Dublin, IRE
Dr Beatriz Revelles Benavente, University of Granada, SP
Dr Monika Rogowska-Stangret, University of Bialystok, PL
Professor Iris van der Tuin, Utrecht University, NL
Professor Maria Tamboukou, University of East London, UK
Professor Cecilia Åsberg, Linköping University, SWE
Dr Goda Klumbytė, University of Kassel, DEN
Professor Felicity Colman, University of the Arts London, UK
Image credit: Frances Cannon