Join us for this fantastic even organised by the ERC project 'Urban Terrorism in Europe (2004-19): Remembering, Imagining, and Anticipating Violence'.
Location: Online
Date: Thursday 15 April 2021, 14:00-16:15 GMT / 15:00-17:15 CET
Contact: e.m.l.geerts@bham.ac.uk
Introduction
During this research seminar, visual artist Emanuela Cusin (Wysing Arts Centre, Cambridge (UK)) and philosopher Dr Marietta Radomska (Research Fellow in Environmental Humanities, Linköping University (SE)) will present their artistic and philosophical engagements with the matter(s)—and materialisation—of (bio)art and ecologies of the non/living. They will do so against the backdrop of these more-than-human crisis times that are afflicted by political and pandemic violence, (counter)terrorist acts and events, and processes of mourning, trauma, and commemoration. Special attention will be paid to new materialist, posthumanist, and affect theoretical strands of thought and artistic practice that can help us better understand these complex times, while emphasising the importance of such novel modes of thought and practice that take into account a shared multispecies vulnerability. 
Programme
14.00 Welcome and introduction of the speakers by Dr Evelien Geerts (University of Birmingham) and general introduction of the Urban Terrorism project by Dr Katharina Karcher (University of Birmingham).
14.10 Presentation on the artwork Breaking Point by Emanuela Cousin.
14.40 Presentation by Dr Marietta Radomska on "Death, Ecology, Affect: Towards and Ethics of Non/Living Matters."
15.10 Short break.
15.20 Conversation between the speakers (with questions from the audience).
16.10 Final remarks.
The event will be recorded and uploaded with subtitles later on. If you have any specific accessibility requirements do let us know upon registering.
Speaker Biographies
Emanuela Cusin
Emanuela Cusin (www.emanuelacusin.com) is a visual artist working with different mediums, methodologies, and themes. She is based at Wysing Arts Centre, Cambridge (UK).
Cusin's current projects focus on the concept of uprootedness and themes of movement and inertia, vulnerability and resistance, and aim to create a safe space for confrontation and recovery, for herself, the audience and others involved. Her work has been selected for events/pop-up exhibitions and educational projects at the Sainsbury Arts Centre; Tate Modern; Wysing Arts Centre; British Art Show 8, and Firstsite. Since 2016 she has been collaborating with Dr Katharina Karcher on various projects in Cambridge and Birmingham that have been designed to initiate new networks between artists, researchers and citizens on themes of surveillance, solidarity, and anti-authoritarian politics. Cusin is also part of SciArt Cambridge, a growing grassroots community of artists and scientists that aims to build accessible, friendly and open-minded platforms in order to foster and promote collaborations between artists and scientists.
During her presentation, Cusin will talk about her artwork Breaking Point, how this work came into being and has evolved thus far, and where/how she would like it to keep evolving and transforming.
Marietta Radomska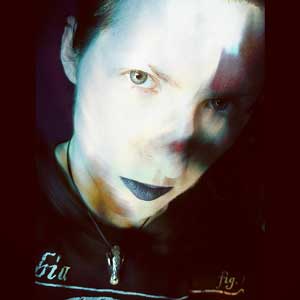 Marietta Radomska, PhD (www.mariettaradomska.com) is a Research Fellow in Environmental Humanities at Linköping University (Unit Gender Studies), SE; co-director of The Posthumanities Hub; founder of The Eco- and Bioart Research Network; and co-founder of Queer Death Studies Network.
Radomska is a philosopher and transdisciplinary gender studies scholar, and her work resides at the intersection of posthumanities, environmental humanities, philosophy, queer death studies, visual culture and contemporary art. She is the author of Uncontainable Life: A Biophilosophy of Bioart (2016) and has published in Australian Feminist Studies; Somatechnics; Women, Gender & Research, and Artnodes, among others.
During her presentation, Radomska will focus on the following: What articulations, cultural and social imaginaries, as well as imaginations are needed in the times of multiple crises? Where do we start when the notions of death and vulnerability seem to saturate any attempt to comprehend the conditions of the present? Taking the intersection between contemporary artistic practices and feminist posthumanities as her entry point, Radomska will look at the questions of death, dying and mourning in a more-than-human sense and as multiplex ecologies of non/living matters. The hope is that such an ontological reframing, grounded in the context of what some tend to call 'the Anthropocene', may open up an urgently needed pathway towards an ethics beyond the straitjacket of human exceptionalism.
The event is funded by the ERC project 'Urban Terrorism in Europe (2004-19): Remembering, Imagining, and Anticipating Violence'.