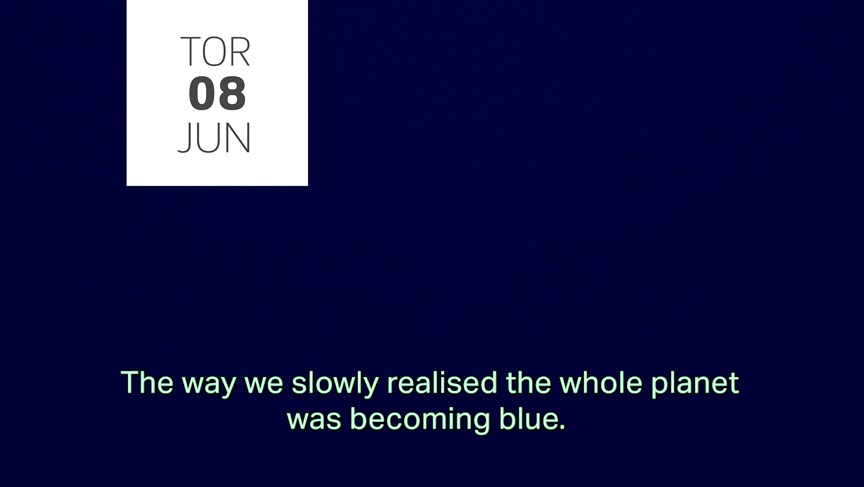 Dear ocean lovers, here is a tip on an online event (in English) with the Göteborg museum of natural history – register for 8 June 18.00 hrs CEST. I believe the film sounds so promising, so perhaps you dont want to miss out on this?
About Deep in The Eye and The Belly
…In the present day, a story is unearthed of a whale body that became a world of dinner parties, clandestine sex and mayoral speeches. In a possible future, a group of those-who-were-left-behind (or, those-who-chose-to-stay) have made a home inside the body of a whale. They find themselves contemplating this new world and speculating on the state of things outside – a world ravaged by a climate crisis which they survived by turning to the ocean. At a crossing between the present day and this potential future, a lone figure sings a lament for the body of the world's last whale… Join us, on World Ocean Day, for a talk with artist Sam Williams and marine biologist Kennet Lundin, where we explore the deep seas through art and biology.
About the participants
Sam Williams is an artist with a multidisciplinary practice, working across moving-image, collage, choreography and text. Sam is based in London where he is a resident at Somerset House Studios. He has exhibited and screened work at institutions including Arnolfini, Baltic39, Siobhan Davies Dance, Somerset House, Tate Britain, Studio Voltaire and South Kiosk (UK), She Will (Norway); Kino Arsenal, Akademie der Kunst, Tanzhalle Wisenberg and B3 Biennale (Germany).
His ongoing research focuses on multispecies entanglements, ecological systems, bodies-as-worlds and folk mythologies and how they can inspire ideas for present and future ways of non-human-centric living.
Kennet Lundin is a marine biologist, author and researcher. He is based at the Gothenburg Natural History Museum in Sweden where he manages the marine collection, is involved in working with the museum's exhibition and outreach. He has authored many scientific articles, several popular scientific books on marine animals, and recently also a book on how to cook and eat them.
Practical info
Register your participation by sending an email to gnm100@vgregion.se. One week before the event you will be sent a link and a password to the film. Watch it when you want to, and then join us for the talk. There will be time for questions and discussions.