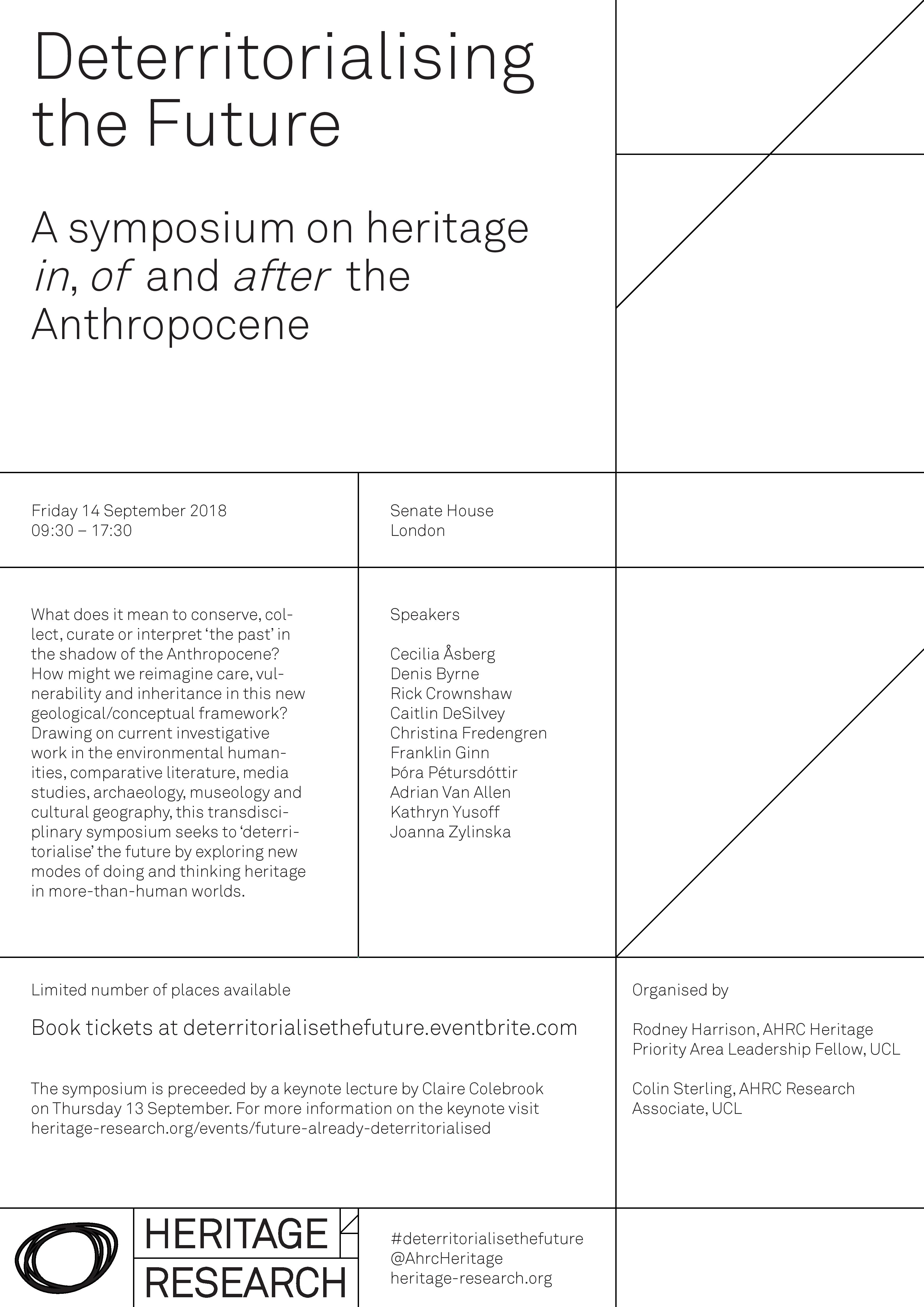 Deterritorialising the Future: A symposium on heritage in, of and after the Anthropocene
14th September 2018, 9:30 – 17:30
Senate House London
UK
What does it mean to conserve, collect, curate or interpret 'the past' in the shadow of the Anthropocene? How might we reimagine issues of care, vulnerability, diversity and inheritance in this new geological/conceptual framework? Drawing on current investigative work in the environmental humanities, comparative literature, media studies, archaeology, museology, and cultural geography, this transdisciplinary symposium seeks to 'deterritorialise' the future by exploring new modes of doing and thinking heritage in more-than-human worlds.
Confirmed speakers:
Cecilia Åsberg, Stockholm University
Denis Byrne, Western Sydney University
Rick Crownshaw, Goldsmiths University of London
Caitlin DeSilvey, University of Exeter
Christina Fredengren, Stockholm University
Franklin Ginn, University of Bristol
Þóra Pétursdóttir, University of Tromsø
Mary Thomas, Ohio State University
Adrian Van Allen, Musee du Quai Branly
Kathryn Yusoff, Queen Mary University of London
Joanna Zylinska, Goldsmiths University of London
* SAVE THE DATE *
The symposium will be preceded by a public lecture from Professor Claire Colebrook, Penn State University, on Thursday 13th September. See the AHRC Heritage Research Events Page for further details.
The lecture and symposium form part of the AHRC Heritage Research programme. Please visit the website to find out about our other events and activities.
To keep up to date with news and events follow us on Twitter: @AhrcHeritage