by Olga Timurgalieva, Patrícia Moreira, and Eva Direito
The art book, Yeasts as We Do Not Know Them, chronicles the roles of single-celled fungal microbes, mainly yeasts, in human lives. The art project, co-produced by designer Eva Direito, biotechnologist Patricia Moreira, and art researcher Olga Timurgalieva, traces the ways these single-celled fungal microbes are involved in producing food and beverage, medicine, animal feed, textile detergents, pigments, biofuels, and other products.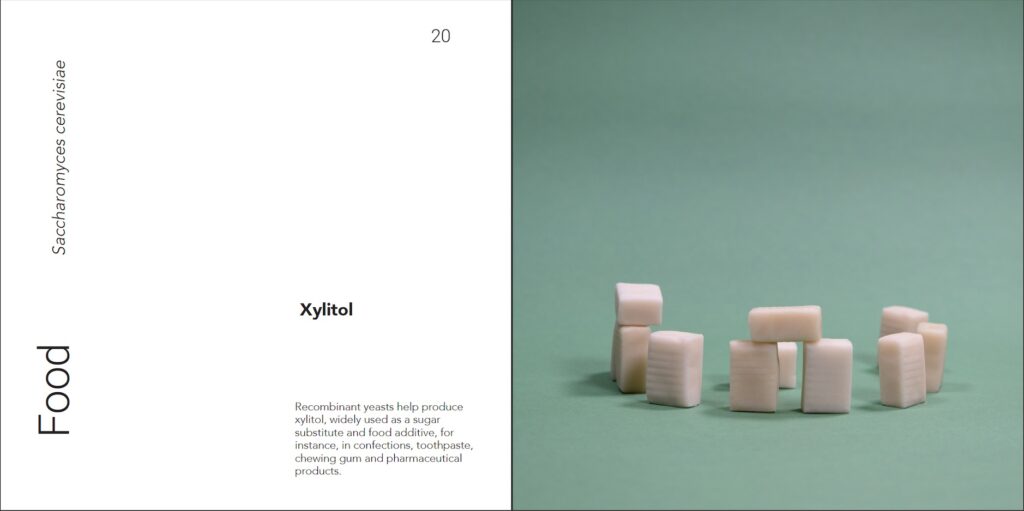 Nowadays, in the abundance of industrially manufactured products, we are often unaware of how and from which materials some specific things are made. However, in light of climate change and increasing pollution in the atmosphere, we are called upon to learn about "the substances that surround us, those for which we may be somewhat responsible, those that may harm us, those that may harm others, and those that we suspect we do not know enough about" (Alaimo, 2010, p. 18). The art book, Yeasts as We Do Not Know Them, therefore, maps some of the human-yeast interrelations and invites the audiences to learn about the materials produced with the application of yeasts.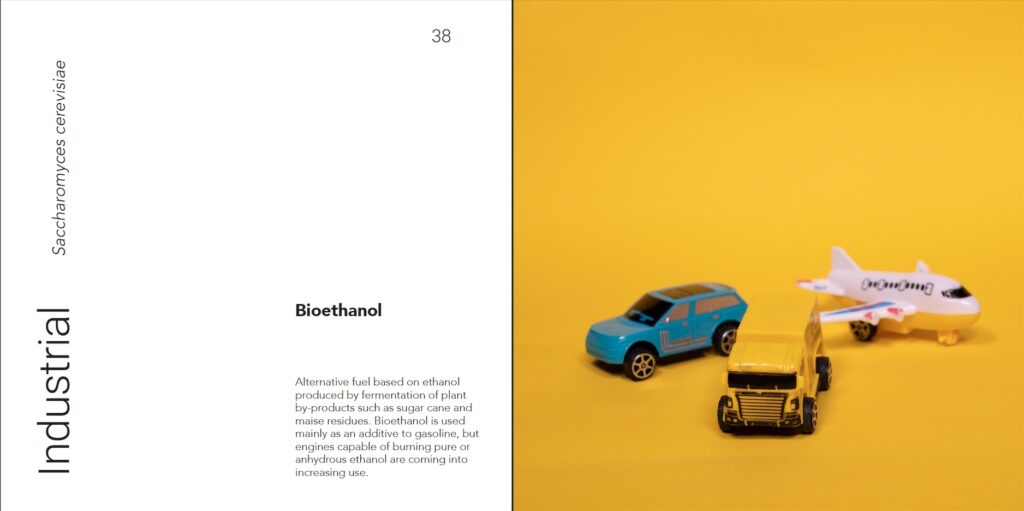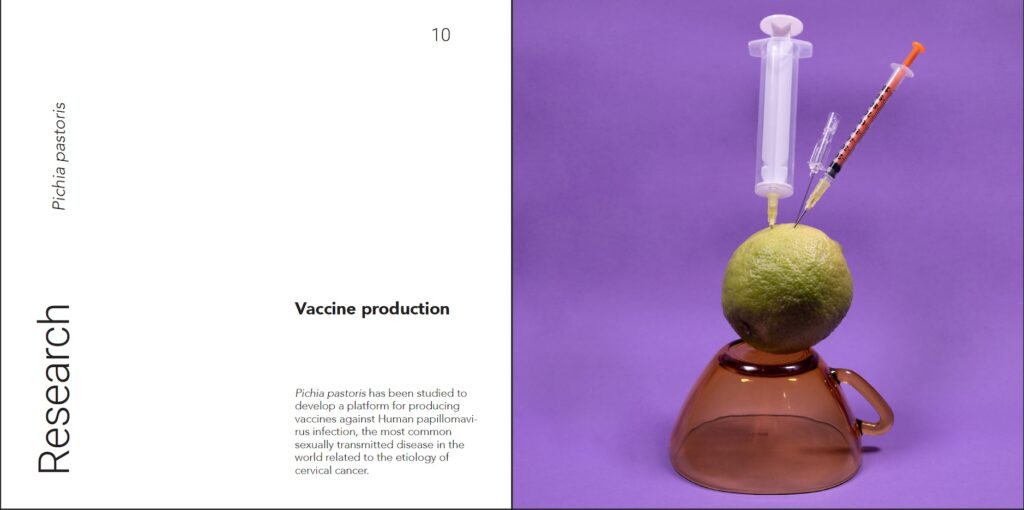 The book's concept emerged under the influence of the 2021-22 PhD course "Gender and Sustainability – Introducing Feminist Environmental Humanities" (FAD3115) collaboratively delivered by the School of Architecture and the Built Environment of KTH Royal Institute of Technology and the Posthumanities Hub. The course focused on post-disciplinary approaches to sustainability and incorporated diverse critical and creative perspectives from environmental humanities.
Inspired by the practices at the intersection of feminist theories and sustainability presented during the course, we conceived the book as practice-oriented research. The cross-disciplinary collective work has allowed us to dive into the diversity of human-yeast interspecies relations and to convert our leanings into the tangible form of the book.
We were lucky to have exhibited the prototype of the book in Hong Kong and Portugal. In Hong Kong, the book was featured as a part of the exhibition, Nexus between Art, Practice & Research, at the gallery Floating Projects at Jockey Club Creative Art Centre. Later, on 17 September 2022, we presented the project on the campus of the Catholic University of Portugal in Porto as part of the celebration of International Microorganism Day. The celebration event was co-organized with the Federation of European Microbiology Societies (FEMS). The event gathered more than 500 students and highlighted numerous crucial roles that microbes play in nature and their relation to human society.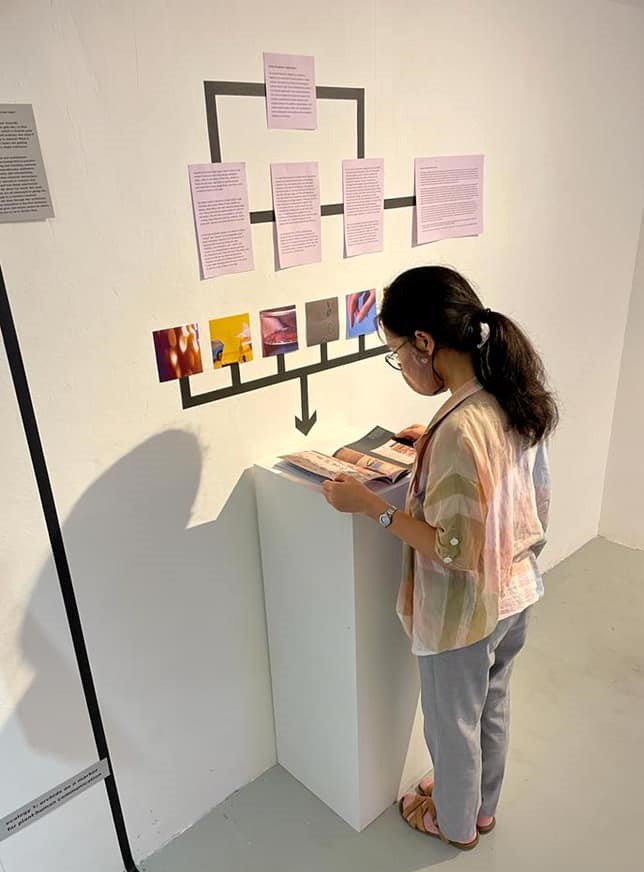 The art book, Yeasts as We Do Not Know Them, has been produced with financial support by Portuguese National Funds from FCT – Foundation for Science and Technology through the Strategic Projects CITAR (Research Centre in Science and Technology of the Arts) [grant number UID/EAT/0622/2016].
Featured Image: Pages 12 and 13 of the book, Yeasts As We Do Not Know Them, include images, Bear in mind that bread made from Magic Yeast will cure indigestion: get the entire menagerie. Presumably, 1880-1890. Wellcome Collection. Public Domain Mark Link: https://wellcomecollection.org/works/mu8gcrx7
References:
Alaimo, S. (2010). Bodily natures: Science, environment, and the material self. Indiana University Press.
Eva Direito holds a degree in Art Conservation and is currently doing her master's degree in Conservation of New Media Art at the School of Arts (UCP, Portugal). Having received an artistic education, Eva works with digital and analog photography and graphic design. During the past few years, she's been working as Art Director in short movies for the School of Arts, some of which had been nominated for prizes ("Our House in Flames" by Miguel Mesquita, at Curtas Festival of Vila do Conde, Portugal) and others had won awards, such as "Hysteria" by Luísa Campino, at Sophia Awards, Portugal.
Patrícia Moreira holds a PhD in Biotechnology with a specialization in Biochemical Engineering from the Universidade Católica Portuguesa (UCP, Portugal). She is an Assistant Professor at the School of Arts (UCP). She is an integrated member of the Center for Research in Science and Technology of the Arts (CITAR), coordinator of the Area-Focus Heritage, Conservation, and Restoration of CITAR, and collaborator of the Center for Biotechnology and Fine Chemistry (UCP). Her main research area is innovation in Biotechnology for Cultural Heritage, with emphasis on biodeterioration, sustainability, citizen science Green Conservation, and bio-art practices.
Olga Timurgalieva is a PhD candidate at City University of Hong Kong and a former visiting researcher at King's College London. Awarded by the Hong Kong PhD Fellowship Scheme, her research investigates the intersections of contemporary art, microbiology, and ecocriticism, with a particular focus on fungal microbes and their interspecies relations. Olga has worked in art institutions, including V-A-C Foundation (Moscow) and the ZKM | Center for Art and Media (Karlsruhe), and co-curated the exhibition, "Here and Elsewhere," at the Kobro Gallery, The Strzemiński Academy of Art (Lodz) and the festival, "Seasons of Media Arts 2019," at the ZKM.