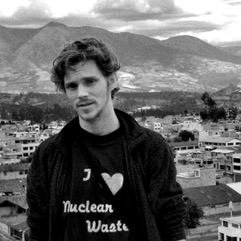 Currently, I work as a lecturer with the Radical Humanities Laboratory and School of the Human Environment (Department of Geography) at University College Cork in Ireland.
My research interests include more-than- human relations, environmental change, and science and technology, with a specific focus on biodiversity loss and oceanic degradation. I research human relationships to each other and the environment, so that people can better resolve environmental challenges and achieve more just and mutually beneficial societies. My work cuts across the disciplines of geography, science and technology studies, cultural studies, creative writing, and related fields.
Funding for my research has come from international and national funding bodies as well as academic institutions. The project "From Virtual Tourism to Citizen Science: Investigating How Publics Produce and Consume Datafied Wildlife in Sweden" was awarded by the Swedish Environmental Protection Agency in 2023. I also co-led and received funding for two workshops during my PhD: "Dying at the Margins" (funded by EU/KTH) and "Writing with Undisciplined Discipline: An Environmental Humanities Writing Workshop" (funded by Seedbox). My PhD was fully funded through the EU's Marie Skłodowska-Curie Innovative Training Networks 2020 program, and my master's degrees were also funded through scholarships and teaching stipends.
I have contributed to various projects and research groups, including Extending Realities, ENVIROCITIZEN: Citizen Science for Environmental Citizenship, One by Walking, The Posthumanities Hub, Digital Ecologies, and ENHANCE – Environmental Humanities for a Concerned Europe.
Teaching
I am committed to capacitating students with skills for life-long learning. In supervision and teaching, I utilise a critical pedagogy and implement this through adaptive teaching practices aimed to assist my students according to their needs. I have instructed students in 18 courses, across 6 different departments, and for 7 universities.
Memberships
Environmental Humanities for a Concerned Europe (ENHANCE)
The Posthumanities Hub
European Association for the Study of Literature, Culture, and Environment
(EASCLE)
European Society for Environmental History (ESEH)
Edinburgh Environmental Humanities Network
Association for Literature, Environment, and Culture in Canada (ALECC)
Network in Canadian History and Environment (NICHE)
Publications (last 5 years)
Journal Articles & Chapters (peer reviewed)
Sea Farming and Feminist Blue Humanities. Special Issue of Journal for Agricultural and Environmental Ethics. Co-edited with Cecilia Åsberg. (Forthcoming 2023).
"Seeking an Algal Perspective: Exploring 'Harmful' Algae through an Interview with Nodularia spumigena." Being Algae: Transformations in Water Plant Studies. Brill Critical Plant Studies. Eds. Yogi Hale Hendlin, Sergio Mugnai, Natalia Derossi, and Johanna Weggelaar. Leiden: Brill. (Forthcoming 2023).
"Storying Toxic Time-Scape 'Trajectories': Intersections among algal toxins and more-than-human bodies." Toxic Time-Scapes: Examining Toxicity Across Time and Space. Eds. Simone M. Müller and May-Brith Ohman Nielson. Athens: Ohio University Press. (Release Date in December 2022).
"Inter/National Connections: Linking Nordic Animals to Biodiversity Observation Networks." Routledge Handbook of the Digital Environmental Humanities. Co-authored with Dick Kasperowski and René van der Wal. Eds. Charles Travis, Luke Bergmann, Arlene Crampsie, Deborah Dixon, Steven Hartman, Robert Legg, and Francis Ludlow London: Routledge. 12 September 2022.
"The Metaphor of Ocean 'Health' is Problematic; 'The Ocean We Want' is a Better Term." Co-authored with Susanna Lidström and Tirza Meyer. Frontiers in Marine Science, 9. 15 February 2022. pp. 1-4. https://doi.org/10.3389/fmars.2022.818229
"Doing Environmental Humanities: Inter/Transdisciplinary Research through an Underwater 360° Video Poem." Green Letters, 23:1. Mar. 2019, pp. 68-82. https://doi.org/10.1080/
Global Environments: A 360º Visual Journey. Rachel Carson Center Virtual Exhibitions, Co-authored with Norum, R., Antonova, A.S., Jones, J.C., Lagier, C., Lakhani, V., Oomen, J., Sébire, A. and Yoho, S.E., 2019. p. 36.
"Are dead zones dead? Environmental collapse in popular media about eutrophication." The Discourses of Environmental Collapse: Imagining the end. Ed. Alison Vogelaar, Brack Hale, and Alexandra Peat. April 20, 2018.
Literary Contributions
"A Rushing Mighty Wind." Breathing Stories: Utah Voices for Clean Air. Salt Lake City: Torrey House Press. 2018.
"I Saw You Running Home." Capitalism, Nature, Socialism. 2018.
Three Strains from adamsongs. Terrain.org. Summer. 2014.
"Aureliana Sky." Saltfront. Salt Lake City, UT. October 2013.
"The High Risers." Mapping SLC. Salt Lake City, UT. 2013.
"Trace Materials," "Pharaoh's Prayer," and "Leisure for the Chase." The Provo Canyon Review, vol. 1, issue 3, Fall 2013.
"Untitled – Notes." Handbook. Denmark. Summer, 2013.
Editorials, and Blog posts
Peterson, Jesse; Allen, Irma; Valisena, Daniele; and Gough, Anne. "What if…? Redefining research impact from an environmental humanities perspective." Transformative Humanities. KTH. Sep. 2018.
Peterson, Jesse. "Can Water Die?: Report on PhD mid-Seminar on Algal Blooms and the Baltic Sea." WaterBlog@KTH: Reflect, Rethink, Refill. May 2018
Peterson, Jesse and Boutet, Jean-Sebastien. "The Interruptor: A (late) review of Learning to Die in the Anthropocene." Transformative Humanities. Division of History of Science, Technology, and Environment. 2018.
Peterson, Jesse. "Undisciplined Discipline Writing Workshop." ENHANCE Blog. 2017.
Peterson, Jesse and Zahara, Alex. "Anthropocene Adjustments: Discarding the Technosphere." Discard Studies Blog. 26 May 2016. https://discardstudies.com/2016/05/26/anthropocene-adjustments-discarding-the-technosphere/
Exhibitions & Workshops
"Nourish: a 360° Video Poem." Umveltzschmerz. Deutsches Museum. Oct. 2018.
"The Sea Inside." Land Lines & The Living Seas Centre. Flamborough Head, Sep. 2018.
"Dysmetria, mine." Exhibition at Utah Museum of Fine Arts. Salt Lake City, UT. April 2014.
Links